Article
Meeting HealthTech trailblazers of Reactor'21: Legit.Health
. 4 minutes to read
As part of the Founder series, we spoke with the Co-Founder of Legit.Health, Andy Aguilar where she told us about her interest in detecting skin diseases and how this research led to the digital health company. Andy shared that the idea for Legit.Health came from a project at the UPV focused on the detection of skin cancer through photographs, about their algorithms which allow diagnosing urticaria, determining how severe the outbreak is, and evaluating the effectiveness of the treatment. Andy shed the light on her experience of being a female leader, fundraising rounds, and future outlook. {VIDEO intro below}
◼ How did you meet with your co-founders?
Taig, Alfonso, and I met in an artificial intelligence school. We were looking to learn more about deep learning to develop this idea, which started as a research project alongside some physicians. Alfonso, our CAIO (Chief Artificial intelligence Officer) is an expert in artificial intelligence, at the European level, as he is one of the few experts in the few-shot learning methodology in the field of convolutional neural networks. Then we met Gerardo, another co-founder, and our CTO. He is a mathematician and software architect with years of experience. Gerardo suffers from chronic psoriasis, one of the 232 pathologies we work with, therefore, he understood perfectly the problems we were trying to solve with our product.
◼ What was one of the most challenging things that you went through as a leader?
It would be accepting the fact that I cannot have all of the possible knowledge about what I was doing. In the very beginning, I was cautious and uncertain, anxious to step up. But then I realized that I could learn anything, and my team is always there to support me. So, one should try to overcome the anxiousness, power through, and enjoy the process.
◼ Can you give any advice for the female founders out there?
First of all, do not think that you are different because you are a woman; you are different because every person is unique regardless of gender. See yourself as another human, not to hold you back to do anything you aspire to.
Secondly, women are super capable of many things; we can manage different things at once and lead a team efficiently. The only thing that could ever stop a person is the fear of standing out or pursuing their dreams.
◼ Can you give some tips on fundraising to our readers? 
You have to be crystal clear about what you want. Do you need the money for something specific? How do you plan to allocate that investment? What is the amount, and for what timeframe? 
Another critical point is to consider the people with whom you will be working. When you are looking for investors – make sure your beliefs are aligned. You need to partner with people who work well with your team, not just on the project but with the whole team. I believe it is imperative.
◼ How do you make sure the team is constantly inspired to develop?
I think that depends on the people you surround yourself with. We always look for people who have clear objectives, an entrepreneurial mind, share our vision, and think outside the box, which is the only way they will enjoy the work we do. It is crucial to strive to innovate and propose new ideas for doing business. Continuous learning is our way of work and solving problems.
For example, the Legit Health team keeps working to improve effective communication between doctor and patient. We are working to make the patient feel understood and supported by healthcare providers. And to help physicians pursue objectivity, precision having the best tool during the diagnosis and evaluation of the disease.
◼ How was your experience with the Reactor accelerator?
It has been a wonderful experience, and we are very grateful to everyone behind the programme for making this possible, the entire HVL and GE Healthcare team. We have received a lot of quality knowledge from our mentors and the rest of the startups with whom we have shared experiences. Reactor'21 has helped us a lot and has allowed us to grow as a company. It has generated a remarkable impact in the business area and the development area at a technical level.
◼ Where do you see Legit Health being several years from now?
Our aim is to be presented in as many hospitals and clinics as possible worldwide, not just in Spain or Europe. We're thinking globally, helping Next-generation dermatologists, who want to encourage and empower patients, with more real-world data to make their therapeutic decisions thanks to Legit Health's algorithms that automatically score lesions just by looking at smartphone images.
We want to continue helping the healthcare providers improve the patient's quality of life, and save as many lives as possible.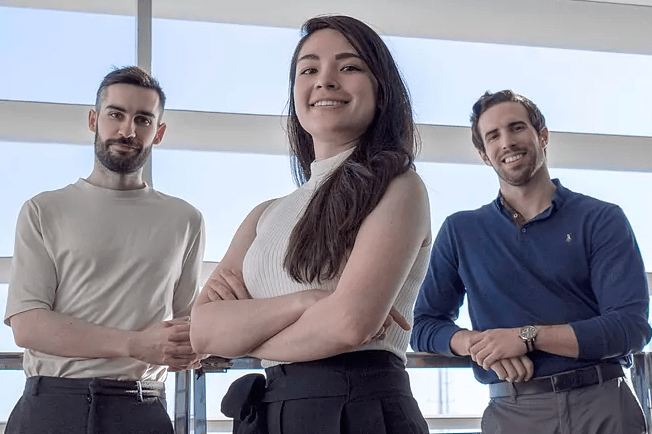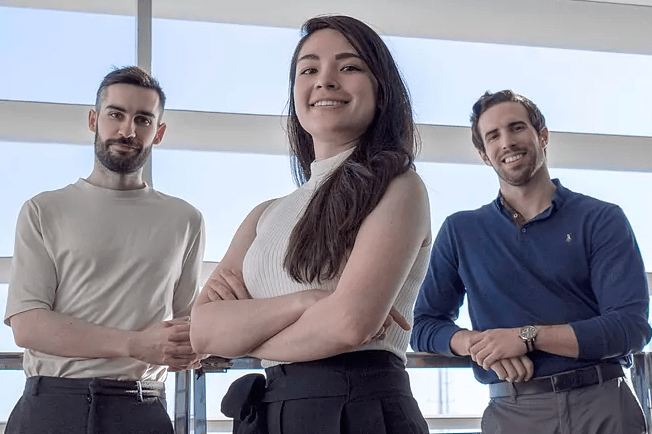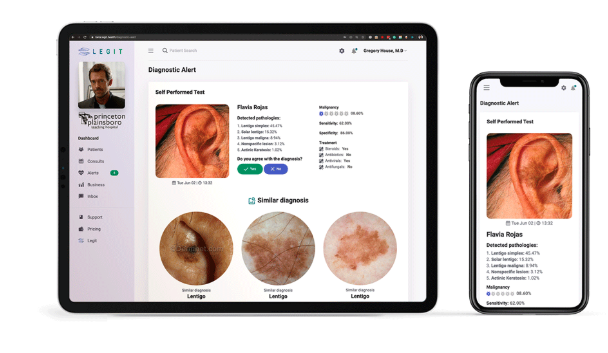 close