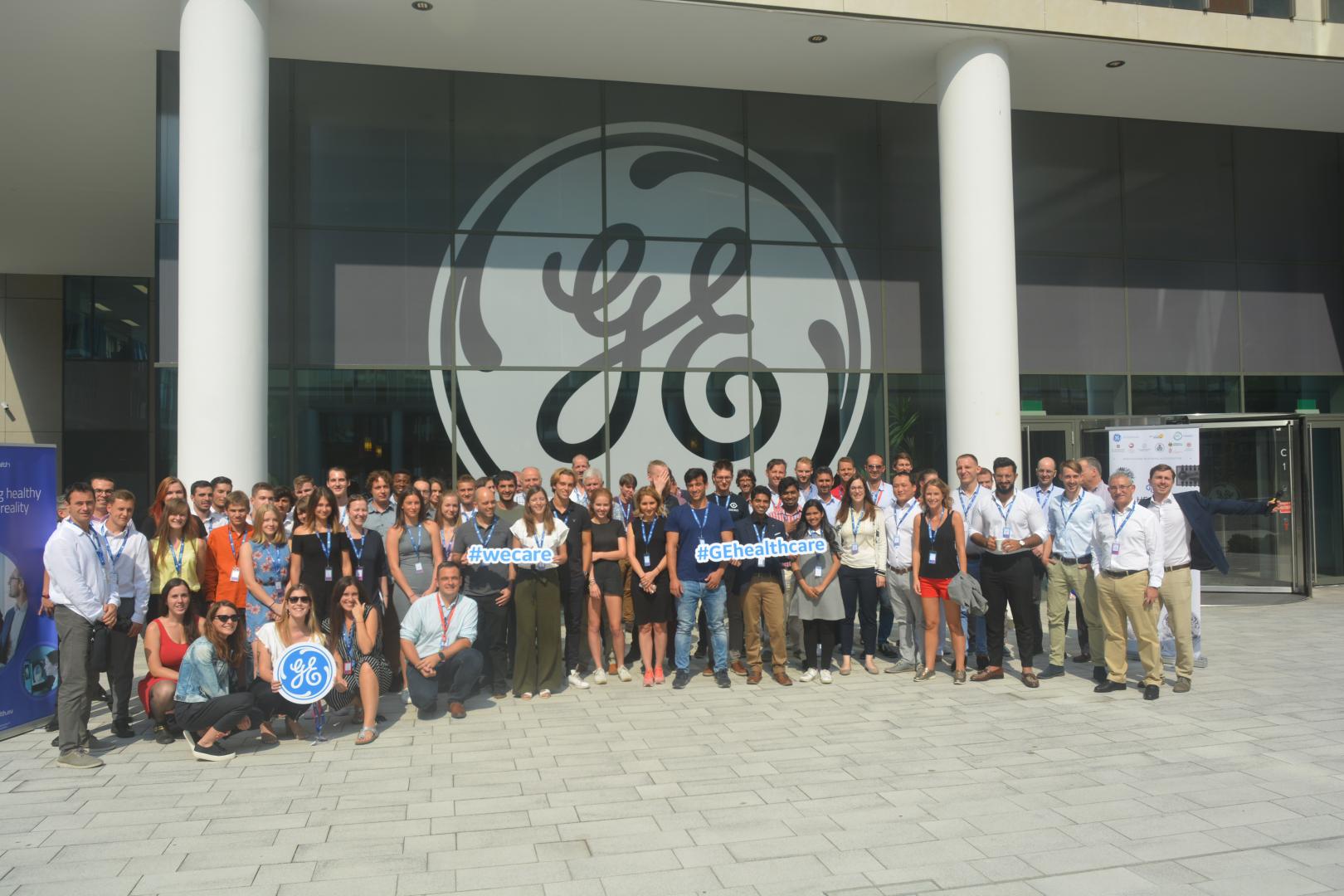 News
A Genius Idea is Not Enough
. 5 minutes to read
GE Reports has published an article on the launch of Health Venture Lab and their ambitions with the partnership: Health Venture Lab (HVL), powered by GE Healthcare has been launched with the participation of 20 international startup teams.
GE Reports has published an article on the launch of Health Venture Lab and their ambitions with the partnership. Check out the original article on GE Reports CEE.
The 16 weeks long accelerator program is designed for early stage companies from Europe and beyond with an entrepreneurial mindset who want to explore their business competencies to develop their ambitious health-related business ideas.
Truly dedicated and committed teams from 13 countries, from Lithuania to Romania, just to mention a few, even from Berlin – capital of the startup world -  arrived for the Health VentureLab Launch Day to Budapest, forming 20 enthusiastic teams and creating a vibrant international atmosphere.  
The passionate startups are working on solutions for a safer, more precise patient care and illness prevention using cutting-edge technologies like artificial intelligence (AI), augmented reality and mobile technology. They provide a wide range of health related innovative solutions in the fields of dental radiology analysis, radiotherapy, next generation of heart arrhythmia, ultrasound imaging, chest-ray but there are also teams working on developing medical wearable products or smart inhalers.
GE Healthcare has teamed up with its university partners and its partners within the international health network of EIT Health to evolve a tailor made, unique program that combines professional expertise, resources and tailored coaching to help startups to grow.
"Good entrepreneurs can change the world" – dr. Endre Ascsillan, Vice President of GE Hungary source: GE
"Within our fast-changing world, innovation is crucial in healthcare and good entrepreneurs can change the world. I strongly believe, that throughout the cooperation of academic, corporate and industrial sector we can provide innovators with future-oriented entrepreneurial mindset and with cutting-edge professional knowledge to start a future-safe business" expressed dr. Endre Ascsillan, Vice President of GE Hungary in his opening remarks.
Besides the carefully designed Health VentureLab learning and development program, the tailored coaching offers the biggest value to startups. There are several business coaches invited to the program, who manage a successful company or have built their own business. Participants can receive tailored assistance and can consult the experts, who have background ranging from Healthcare Data Protection to Manufacturing Healthcare Equipment.
The Health Venture Lab program is dedicated to build a thriving community of international innovators. Invited experts, participants had a lot to discuss during the kick-off day: 
What are the key drivers and challenges of innovation within healthcare?

How can academic and industrial players work together to create a knowledge rich environment for early stage companies?

How can early stage teams be motivated to push through with their business idea?

How to get funding?
There are plenty opportunities in healthcare. Let just think of the huge amount of data and information generated every day in the business, but they all come through different systems and are all disorganized. To be able to research and use this data one has to come up with a new idea.  
Panel participants (from left) dr. Gergely Dóczi, CEO Futurmed Ltd; Attila Ferik, Sr. Software director, GE Healthcare; Bartolomej Grobelski, CEO of UMED Supporting Innovation Transfer; Maris Prii, COO at Relbelream, Ilona Kecskés, Director of Technology Transfer, Semmelweis University
Moderator: (left) Imre Hild, Global Managing Partner at Global Traction
source: GE
But in most of the cases a genius idea in not enough to create and run a successful venture – all participants of the panel discussion titled "Opportunities in the Healthcare Sector" agreed.
"For example, there are over 350 000 healthcare applications for smart phones but 75% will be deleted after one month of use.  Innovators should think upfront how to retain their customers. Our job, as a technology transfer team at the Semmelweis University, the oldest medical school in Hungary is to help early stage startups to put an execution team behind their idea" explained Ilona Kecskés, Director of Technology Transfer, Semmelweis University.  
Another essential element to turn an idea into a successful venture is to understand the investors mindset and HVL can be a great support to entrepreneurs to overcome their challenges.
"Ideas are not unique, entrepreneurs have to prove to the investors they are able to execute their idea. It is the execution, that matters the most" – said Maris Prii, COO at RelbelRoam, former COO of Startup Wise Guys while giving valuable practical advice to program attendees during her presentation.  
HVL training session at GE – source GE
Health Venture Lab creates a perfect environment for those who are working on business ideas, which can revolutionize the future of heath care. 
Stay tuned to learn more how HVL participants will develop their concept along the training program and expand their entrepreneurial skillset to create and manage an innovative, growth-oriented venture.